Mission Statement
IgnitING your passion to reach success and achieve your goals
through fitness, strength, Martial arts, and community.
Join our community to become the strongest version of yourself TODAY.
ImpactFit is our Strength and Conditioning team based fitness program open to individuals looking to start their fitness journey to individuals with a consistent exercise regimen. ImpactFit utilizes the correct technique of everyday functional movements incorporated from areas of high-intensity interval training, gymnastics, running, weightlifting, and powerlifting to build muscle, enhance endurance, burn fat, boost confidence, improve flexibility, and train with our positive, inspiring, and motivating community.
This is a broad and inclusive fitness program, offering universal scalability of load and intensity to develop the physical performance of any committed individual and athlete with any level of experience and supports them through measurable, observable, and repeatable results.
Our coaches are experienced in teaching beginners and developing athletes, competing in CrossFit competitions, and are certified in areas ranging through CrossFit specialties such as trainers, weightlifting, and anatomy and the American Council of Exercise as personal trainers.
ImpactFit Endurance classes are designed for any fitness level to promote fat loss, build lean muscle and strength, and improve speed and work capacity through aerobic exercise.
This class consists of High-Intensity Interval Training (HIIT) workouts using minimal amount of rest to increase your fitness and energy capacity for longer periods of time to handle higher workloads or a high intensity day.
By developing aerobic capacity, muscles create a greater adaption to the workload, leading to lifting more weight, increasing the ability to train for longer periods of time, and improving your recovery times, stamina, lactate threshold, and speed.
Impact Mobility is a group of physical and mental practices and disciplines designed to increase strength, recovery after workouts, range of motion, release tight areas which are hindering performance, breathing mechanics, joint integrity, movement patterns and enhance mental control, focus, and concentration.
This program is created and developed to help you reach your goals as well as your toes. It is designed for teaching breathing techniques to maintain heart rate and blood pressure throughout exercise, practicing mobility and flexibility poses to allow individuals to hit better positions in strength and combat sports, and improve the core muscles for increased stabilization, posture, and coordination.
By learning and incorporating proper breathing techniques, it will improve mental recovery, range of movement, muscle stretch ability, and tighten your core muscles.
Impact Zone Barbell Club is a USA-Weightlifting club for individuals looking to learn or build their technique for the Olympic lifts, which include the Clean and Jerk and Snatch.
This program incorporates a variety of movements with the barbell such as deadlift, squat, clean, snatch, push press, and many more.
Each student works at different levels to build core muscles, strength, technique, and mobility to help accomplish the lifts with greater confidence, power, and intensity.
Personal training consists of the individualized fitness programming catered to your goals which is implemented through private or semi-private sessions. This program focuses on areas of health, fitness, strength, endurance, speed, coordination, weight loss, nutrition, and lean muscle.
Our coaches are experienced in working with individuals who are just beginning an exercise regimen to high level athletes looking for more advanced training. All of our coaches are certified trainers.
Private Martial Arts Lesson
Private lessons are for individuals looking to start or are currently involved in areas of martial arts, such as Brazilian Jiu Jitsu and kickboxing, seeking to learn or fine-tune their skills through independent and intensive coaching with our world class coaches.
Private Martial Arts Lesson finds a flexible schedule to work with you and keep you accountable to help you achieve your fitness and training goals.
Ladies Only Fitness Bootcamp is a high intensity total-body workout designed for ladies to get started in an exercise environment. We promote a fun, energetic, and positive environment of ladies ready to train together and help you accomplish your fitness goals.
We collaborate our expertise in CrossFit, bootcamps, HIIT (high-intensity interval training), endurance, and mobility to design workouts using bodyweight exercises, circuit training, combining sprint intervals, high intensity interval training, jogging, and obstacle challenges to burn more fat and calories and tone your entire body.
Children's self-defense teaches each child the necessary skills in self-defense techniques to protect themselves and improving their life skills in areas of honesty, respect, humility, and hard work in a fun and educational team environment.
Our coaches incorporate their experience from all of our programs to develop exercises such as rolling, running, and defensive positions to teach your children how to protect themselves safety and effectively, build their physical strength and mental confidence, and improve their overall health.
Our kickboxing workouts are geared toward beginners to simultaneously burn fat, sculpt muscles, and get your body in great shape. Our program is an exhilarating workout with realistic self-defense training in a fun team environment.
Each student works at their own pace to learn basic moves in self-defense such as the use of punching, kicking, defensive techniques, striking, and foot placement. Kickboxing develops anaerobic and aerobic fitness, builds muscle strength, and improves coordination, agility, and balance.
Our coaches compete in amateur and professional MMA fights, cornered dozens of kickboxing matches, achieved the status of a pro champion, and are experienced in training kickboxers from an amateur level to the professional level.
Brazilian Jiu Jitsu Gi and No-Gi
Brazilian Jiu Jitsu is a submission grappling based martial art incorporating techniques from classical jiu-jitsu, judo, and wrestling used to teach self-defensive tactics and increase physical fitness to take a challenger to the ground. Military special forces are taught through the techniques of BJJ to effectively gain the upper hand in hand-to-hand combat.
This program trains under Team ATOS - one of the top BJJ teams under Black Belt world champion André Galvão. Brazilian Jiu Jitsu is coached by a member of the USA Grappling World Team and by coaches with over 10 years of experience training and competing in the BJJ/ Grappling world at the state, regional, and national level.
Our experienced coaches dedicate themselves to teaching and leading others to build strength and experience through Basic and Advanced level classes and lead our athletes to enhance their physical fitness, increase knowledge of self-defense techniques, and compete in competitions all over the world.
HEAD COACH
CROSSFIT LEVEL 1 TRAINER
Coach Carlos strives to create life changing results and make a positive difference in everyone at Impact Zone through fitness, nutrition, and community.
He believes if you are coachable, teachable, have a great attitude, and are willing to put in the work to become the strongest version of yourself possible, you will do great things.
He applies this belief to every part of his life where he is a six-time gold medalist as a Team USA Grappling Athlete and dedicates his time and energy to teach and grow his family, team, and coaches.
He started Impact Zone in 2007 with the mission to establish a community of motivated and encouraging individuals and make an impact in the lives of others. Outside of Impact Zone, Coach Carlos volunteers his time as the Head Combative Instructor for the Lafayette Police Department and Head Strength and Conditioning Coach for the West Lafayette High School Football Team.
Certifications:
Strength Sensei - Strength Training for Grappling Sports
Judo Black Belt
CrossFit Level 1 Trainer
Brazilian Jiu Jitsu Black Belt
Professional Mixed Martial Arts Coach
Strength and Conditioning Specialist
American Kettlebell Certified Trainer
Emergency Medical Technician
NFPT Certified Personal Trainer
Certified TRX Instructor
Professional Kickboxer
BOOT CAMP COACH
NUTRITION COACH
PERSONAL TRAINER
Coach Lara's mission is to empower individuals to pursue and accomplish their goals. She is dedicated to guiding you in fitness and nutrition to help you accomplish your goals and inspires you through her positive and bubbly personality.
She coaches the Saturday Morning Bootcamp class, is a personal trainer, and runs nutrition workshops at Impact Zone. She has a passion for leadership, entrepreneurship, fitness, and nutrition.
PRIVATE MMA INSTRUCTOR
KICKBOXING COACH
Coach Chico is a trainer, kickboxing coach, and private MMA instructor. He has been kickboxing for over seven years and has a blue belt in Brazilian Jiu-Jitsu. He dedicates himself to coaching and teaching others to be inspired by exercise and building his athletes to become better – in any aspect of their life.
Coach Chico can be found at random times throughout the day at Impact Zone with a contagious smile on his face and working with various athletes to develop and enhance their skills in kickboxing.
Training Tips:
- Have a goal – it keeps you motivated to step out of your comfort zone and pushes you forward to accomplish it.
- It's not about being better than someone else, it's about being better than you were yesterday.
- Fall in love with exercise that changes your mood and life, not just your body.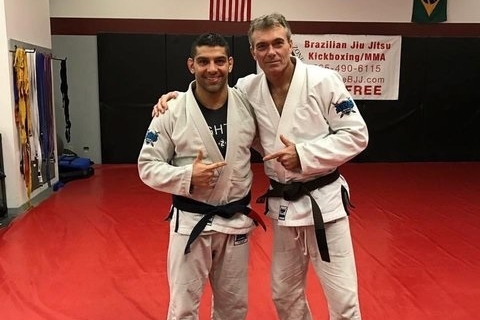 BRAZILIAN JIU JITSU INSTRUCTOR
CROSSFIT LEVEL 1 TRAINER
Coach Mike, aka 'Silver Fox' is a Brazilian Jiu Jitsu Brown Belt and Coach at Impact Zone. He owns his own business and is usually running in and out of Impact Zone. He values hard work and dedication in himself and his teammates.
He is constantly inspiring and coaching his teammates to train hard and push themselves to success.
Training Philosophy:
The two most important things you can do are -
Listen to your body
And always work up a sweat.
Certifications:
Brazilian Jiu Jitsu Brown Belt
CrossFit Level 1 Trainer
Certified Diver
Bodybuilding
Private Pilot
Coach Josh works with beginners to advanced levels of athletes in our ImpactFit Program. He values hard work and will consistently push you to hit your Personal Records with every class you come to. His goal is to educate and empower athletes to train effectively in each movement for the rest of your life and to create and share a passion of CrossFit and Weightlifting in a fun and competitive environment.
When he's not coaching classes, you can find him doing his own CrossFit workout, personal training, or even training with another athlete at Impact Zone. He averages about 3 training sessions a day and likes to add handstand pushups to every session.
Josh has competed in the 2015 and 2016 CrossFit Midwest Showcase, 2015 New Breed Ultimate Challenge, and is continuing his education through the CrossFit certifications, weightlifting workshops, and is continually enhancing his skills in CrossFit and Weightlifting.
Favorite Quote:
"Work hard in silence, let your success be your noise."
Certifications:
CrossFit Level 2 Trainer
CrossFit Weightlifting
CrossFit Anatomy
Coach Ben teaches our Brazilian Jiu Jitsu fundamentals class and works with each individual personally to teach, develop, and enhance their Jiu Jitsu technique and skills.
He worked 50 hours a week in his past job and understands how difficult it is to fit your workouts or classes with a full schedule and offers private lessons to work with you and your schedule, so you get your training in!
Outside of Impact Zone, you can find Coach Ben hiking, fishing, camping, or mountain biking.
Life Philosophy:
Put yourself outside of your comfort zone with training, being social, and trying new things. It's one of the best ways to grow as a person.
Training Tip:
On days you think about skipping training, challenge yourself to follow through.
You won't regret it.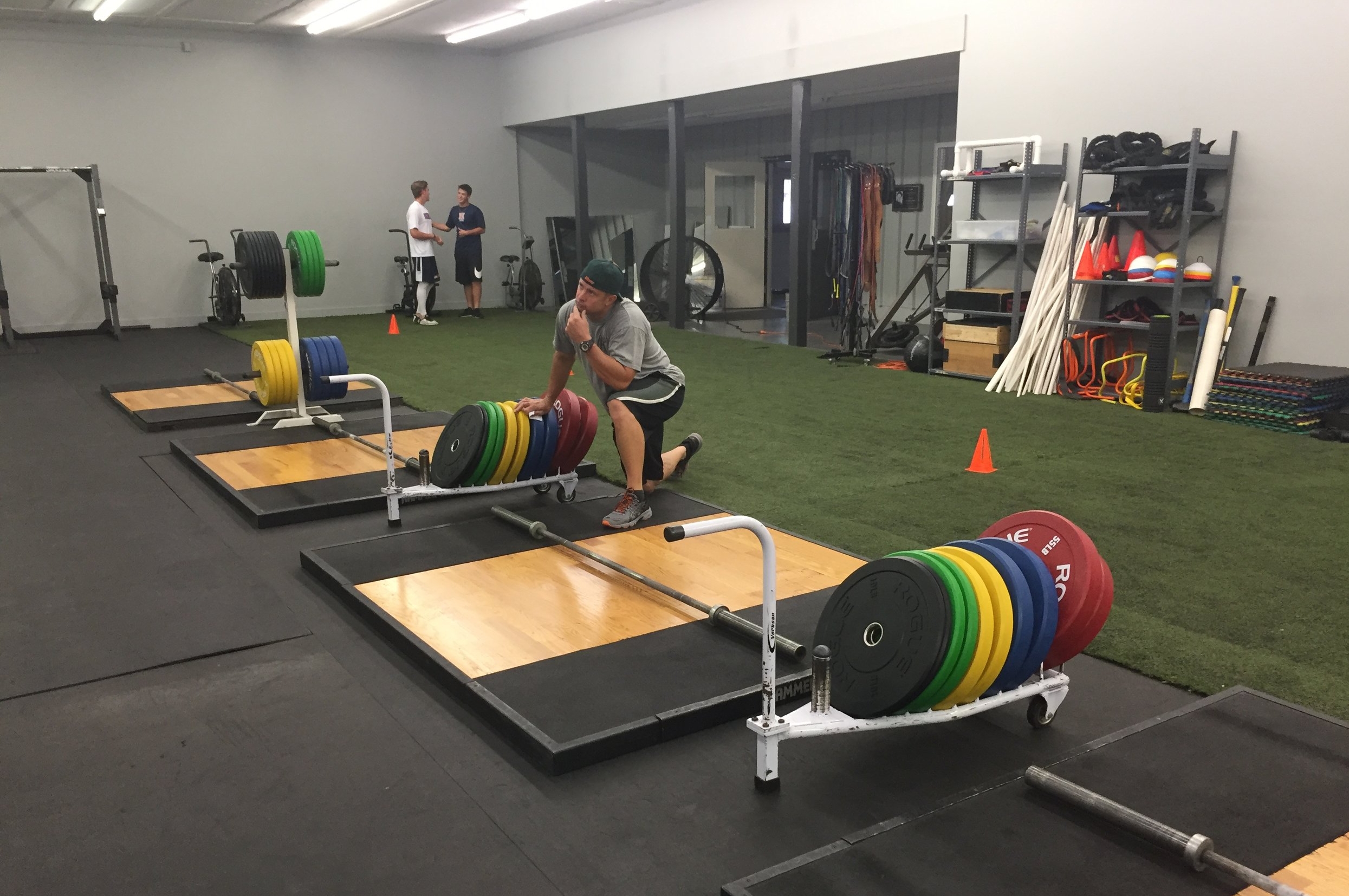 Coach Ted is a firefighter with the Lafayette Fire Department. He has a Bachelor's in Movement and Sports Science and Master's in Higher Education Athletic Administration from Purdue University. He is currently the head of the Lafayette Fire Department's PEER Fitness Trainer and participates as a member of the City of Lafayette Wellness Committee.
You can find him at Impact Zone cracking jokes, sharing workout stories, training with Coach Josh, and working with his athletes.
Favorite Quote:
"When you feel like quitting,
Think about why you started."
Certifications:
CrossFit Level 1 Trainer
Speed and Power Specialist
Coach Amanda is a United States Army veteran and a kickboxing coach who pushes you give maximum effort in anything you do. She is someone who will give it to you straight, focusing on technique and building you to be stronger – mentally and physically.
She believes in people who show up, put in the work, and builds them to become great athletes.
She has been training in kickboxing for 4 years and has experience cornering over 10 kickboxing matches.
get a FREE fitness assessment
Goals
Whether it be to lose weight, get stronger, or learn more about fitness - we want to help you accomplish your goals.

Let us know what they are and we can work to achieve them together.
Measurements
To show you specific and measurable results, we take measurements on your first assessment to provide a starting point and see results.
Fitness Level
We do a series of strength and flexibility tests to see where you are fitness wise and adjust our exercises and programs to meet you where you are.
MONDAY
6am to 7am - ImpactFit
11am to 12pm - BJJ No-Gi Fundamentals
12pm to 1pm - ImpactFit
5:30pm to 6:30pm - ImpactFit
5:30pm to 6:30pm - Kickboxing Fundamentals
5:30pm to 6:30pm - Barbell Club
6:30 to 7:30pm - ImpactFit
6:35pm to 8:25pm - BJJ No-Gi/Grappling
TUESDAY
5:30am to 6:30am - Kickboxing Fundamentals
6am to 7am - Endurance Bootcamp
12pm to 1pm - Endurance Bootcamp
5:15pm to 6pm - Children's Self Defense
5:30pm to 6:30pm - Endurance Bootcamp
5:30pm to 6:30pm - Barbell Club
6pm to 7pm - BJJ Gi Fundamentals
6:30pm to 7:30pm - Endurance Bootcamp
7pm to 8:15pm - BJJ Gi Advanced
WEDNESDAY
6am to 7am - ImpactFit
11am to 12pm - BJJ Gi Fundamentals
12pm to 1pm - ImpactFit
4:30pm to 5:30pm - ImpactFit Fundamentals
5:30pm to 6:30pm - Kickboxing Fundamentals
5:30pm to 6:30pm - Ladies Only Bootcamp
6:30 to 7:30pm - ImpactFit
6:35pm to 8:25pm - BJJ No-Gi/Grappling
THURSDAY
5:30am to 6:30am - Kickboxing Fundamentals
6am to 7am - Endurance Bootcamp
12pm to 1pm - Endurance Bootcamp
5:15pm to 6pm - Children's Self Defense
5:30pm to 6:30pm - Endurance Bootcamp
5:30pm to 6:30pm - Barbell Club
6pm to 7pm - BJJ Gi Fundamentals
6:30pm to 7:30pm - Endurance Bootcamp
7pm to 8:15pm - BJJ Gi Advanced
FRIDAY
6am to 7am - ImpactFit
11am to 12pm - BJJ No-Gi Fundamentals
12pm to 1pm - ImpactFit
5:45pm to 6:45pm - ImpactFit Team Training
SATURDAY
7:30am to 8:30am - Saturday Morning Bootcamp
8am to 9am - ImpactFit
9am to 10am - Endurance Bootcamp
9am to 10am - Kickboxing Fundamentals
10am to 11am - ImpactFit Mobility
11am to 12pm - Barbell Club
11am to 12pm - BJJ Gi Fundamentals
12pm to 1pm - BJJ Grappling/ Open Mats
start your 30 Day Free Trial
The hardest part of joining a new place is feeling like you don't belong. We don't want that feeling to ever happen. Our 30 Day Free Trial gives you the opportunity to meet and train with our motivating and inspiring community of individuals, get full access to all of our programs to see which one you enjoy the most, and receive world-class coaching from our team of certified CrossFit Trainers, Strength and Conditioning Coaches, Personal Trainers, and Team USA Grappling Athlete.
We strive to make a difference in our community and change people's lives to be the best they can be - and we want you to be apart of that.
We have two requirements:
Be coachable, teachable, and have a great attitude
Be willing to put in the work to become the strongest version of yourself possible
Contact us below to meetup with one of coaches today and learn how we can impact your life.
Got a question? Have a comment? Need more information? Fill out the form below and we'll be in touch as soon as possible!
VISITORS BY APPOINTMENT ONLY
As a courtesy to our members and coaches, please contact us first before planning a visit to the facility. Please do not drop by without an appointment.
Location
2781 Klondike Road
West Lafayette, IN 47906
Hours
Monday 6a-7a, 10a-9p
Tuesday 6a-8a, 10a-9p
Wednesday 6a-7a, 10a-9p
Thursday 6a-8a, 10a-9p
Friday 6a-7a, 10a-7p
Saturday Closed
Sunday Closed